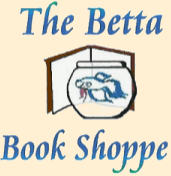 The Betta Book Shoppe specializes in "junk food for the brain". Mostly sci/fi and romance paperbacks, with a sprinkling of other stuff just to make it fun. Look for more items including puzzles and coming soon books on tape. The Betta Book Shoppe is run out of the Bookworm Bed and Breakfast making us almost a brick and mortar store.  As all our current inventory is listed on this site, you don't need to do anything extra. So search away to find the treasures you're missing in your collection. 
If you are curious to know which books are from which store, The Betta Book Shoppe inventory is mark with a "b" in the tracking number. Logan Lake Video and Books tracking numbers have and "L".
Just for your information: 95% of our books are in "storage" so have no contact with the public.